News and Events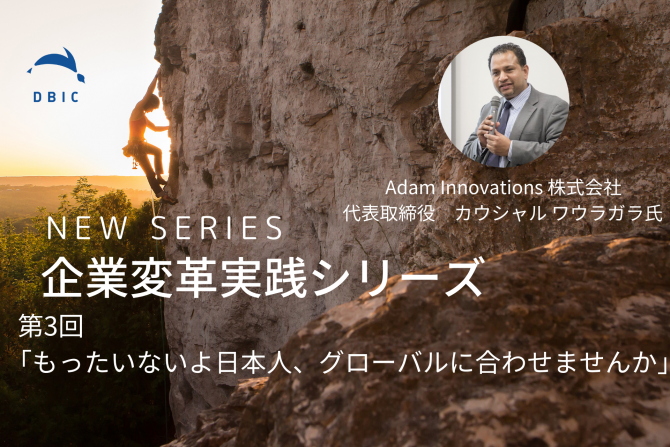 Corporate Transformation Practice Series (3rd) Online Held "Mottainai, Japanese, why don't you fit in globally?"
Title
"Mottainai, Japanese, why don't you fit in globally?"
Overview
The Japanese etiquette is "modest attitude". And it is polite not to do what is not said. However, it is not possible to create new value with the same culture and attitude. It is a waste to not be able to demonstrate the abilities and individuality that you should have. Why don't you evolve your life so that you can make the most of your abilities? Based on his experience in Harvard, USA, starting a business, living in Japan for 8 years, and coaching an overseas dispatch project at the Ministry of Land, Infrastructure, Transport and Tourism Explain and advise on the difference between Japanese and global.
The instructor will speak Japanese for this program.
What is the Corporate Transformation Practice Series?
In the "Series that Hiroshi Yokotsuka wants to hear," we have focused on making people feel the "mind" of innovators, but at DBIC2020, we will support and promote companies so that they can practice innovation as the next step.
As one of the specific DBIC activities, DBIC representative Yokozuka plans the "Corporate Transformation Practice Series".
The theme is to provide the "wisdom" necessary for implementing change to those who practice corporate transformation.
We would like to invite highly specialized people for each issue to talk about the "essence of each change issue" and use that as a hint to work on the transformation of each company.
Outline of the event
Nname

Corporate Transformation Practice Series (3rd) Online Held "Mottainai Japanese, why don't you adapt globally?"

Event date

Wednesday, October 28, 202016: 00-18: 00 Presentation & Discussion

Place

This course will be held online using Zoom.
For details, the secretariat will send an email to those who have applied for participation.

Cost
Target

DBIC member companies / DBIC adjournment companies / DBIC supporters Everyone
from young people to executives are welcome to participate.

Number of people
How to apply

Please apply from the URL provided by the email sent to members from the DBIC Event Secretariat.